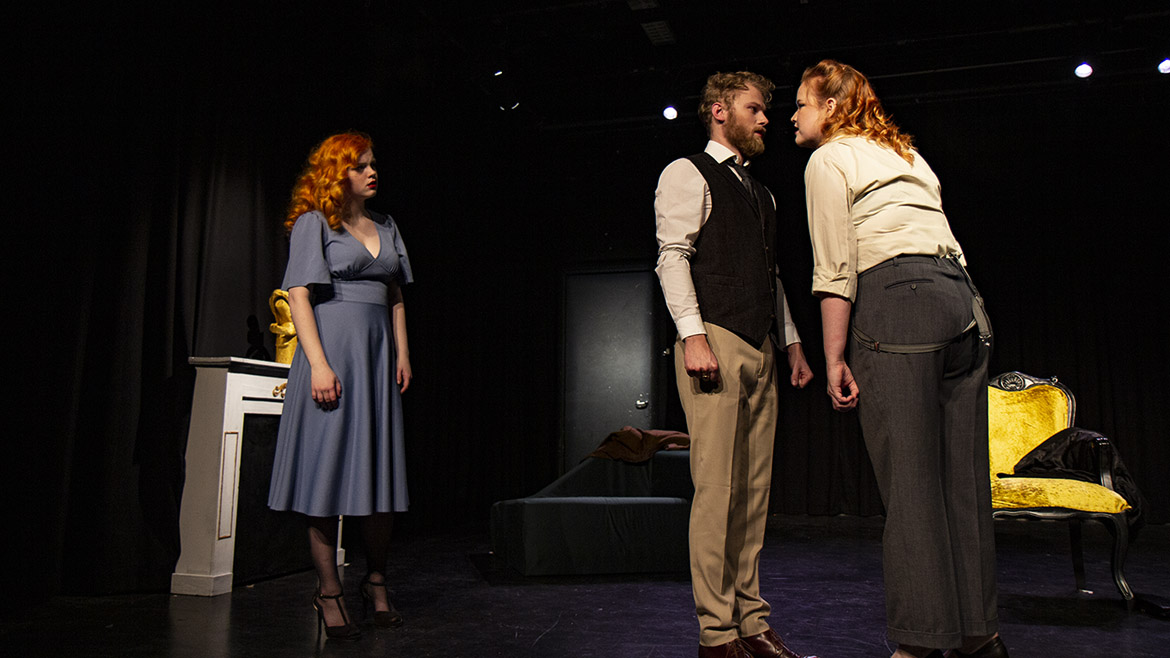 GUTS - No Exit Hell is other people
Welcome to Hell. Where is purgatory? The torture devices? No lake of fire and brimstone, no devils waiting for your arrival. No. A space. A scarcely decorated room. Three armchairs, red, yellow, green. A letter opener and a door that can only be opened from the outside. It raises questions. Questions that, very frustratingly, are not answered straight away.
In early March, I visited a production of Jean-Paul Sartre's No Exit by the Groningen University Theatre Society (GUTS) that played in the USVA theatre at the Munnekeholm. This existential one-act play is the directorial debut of Merel Bakker. A successful one at that, because the Saturday show was sold out even after extra tickets were made available. Well deserved, I should note. With this play, GUTS has shown how great student theatre can truly be.
No Exit is one of Sartre's most well-known works. It rejects the western image of Hell as a permanent blast furnace. God's wrath. The eternal suffering of tortured souls, whose cries echo as flames lick at their heels. A never-ending sea of fire. Abandon all hope, all ye who enter, as Dante concludes.
Alright, no scorching flames. Hell is simply a room.
A very warm room, that much is true. Vincent Cradeau, played by Jeffrey van den Berg, does not seem too fazed. "It's like this," he observes. Even so, behind his apparent calm demeanour hides a sense of nervousness.
An anxious mouth twitch makes him look frightened. His nervousness finds its way to his legs, making them tap uncontrollably. And questions. He asks so many questions. One never sleeps, I take it? Just as expected, why should one sleep? Questions that soon become filled with desperation, the type that is only meant to prevent bell boy Valet, played by Stephen Samuel Johnson, from abandoning him in this… Hell? Room?
Cradeau doesn't have to wait long. He is soon joined by Inez Serrano, played by Berber Aardema. From the moment she enters the stage, she oozes confidence. A tad haughty with a somewhat condescending smile.
As Cradeau's counterpart, Inez is calm, calculated and cruel.
She's intelligent, holds out for information, deduces the situation and draws her own conclusions. She mainly has eyes for newcomer Estelle Delauney, played by Cassandra Brand. With her lovely red hair and her perfect makeup, Estelle is a true mademoiselle. Feminine and seductive. Her blue dress contrasts with the beige of Cradeau and Inez. It stands out against the many shades of grey that mark the room, making her the focal point of the stage.



Sat in a matching yellow armchair, Estelle is hopelessly searching for a mirror. Inez adores her, wants to become her looking glass. She, in turn, prefers the company of men. Real men, with tough skin and strong hands. The type of man that Cradeau aspires to be.
The executed pacifist, the gassed mistress and the terminally ill housewife. Why these three? Why were they placed together in this room?
Hell is other people. Each forms the weakness of the others. A farrago created by jealousy and a craving for acceptance. Behind desire hides a feeling of inferiority. A fear of being forgotten or rejected. It is only in each other's presence, in arguments and false longing, that the doomed can face their own fears.
When a resolve seems near, the public is reminded of the stage that unfolds before them. A brief silence. And then it starts again. Estelle in her yellow armchair. She hopelessly searches for a mirror. Inez offers herself to her.
This is endless suffering.
Photography: © E.M. Hes Photography