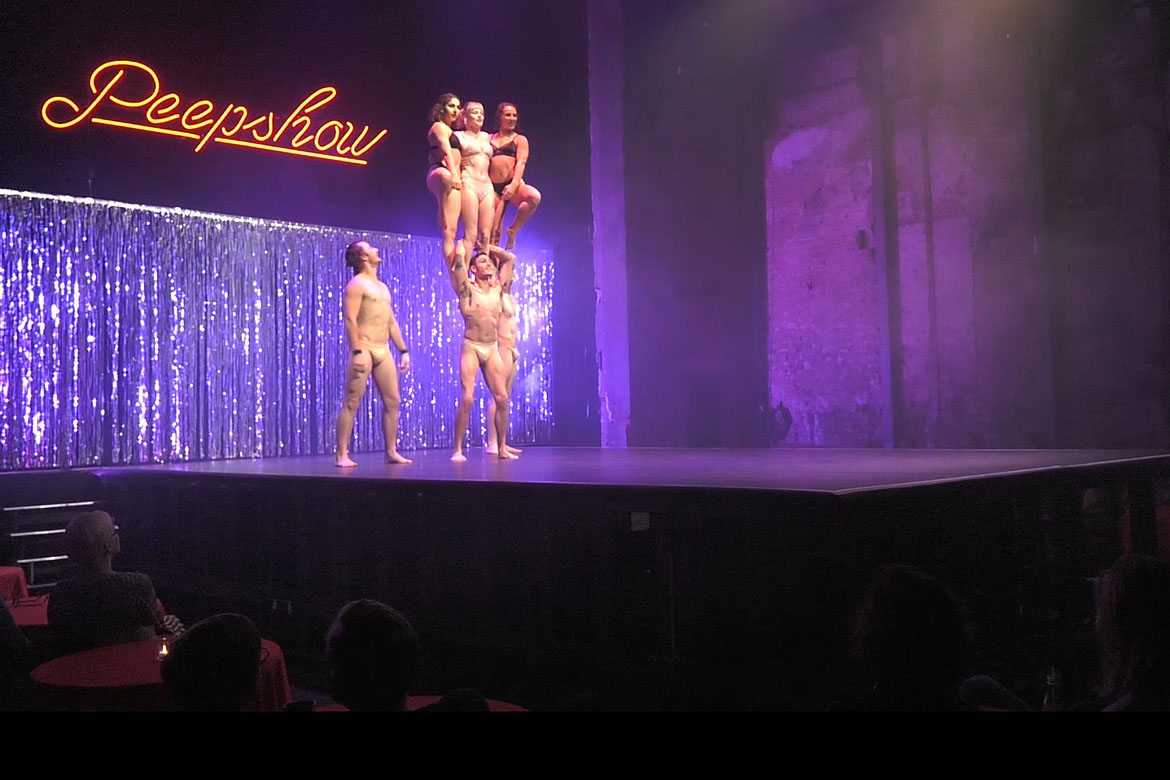 Circa's Peepshow 'This is a completely new experience for us'
This is circus company Circa's third time in Groningen. The performers hope that their show Peepshow will give the audience – and themselves – a whole new experience. Behind the scenes, acrobat Ela Bartilomo tells us about the creative process behind the show and her motivations.
In any case, Circa's Peepshow does have a provocative title, which, according to Ela Bartilomo, is not without reason. 'We called it Circa's Peepshow because we wanted an element of cabaret to be involved in the show. So Peepshow is inviting and at the same time revealing,' she tells us. The show contains elements of 'tease' and 'strip', as well as a huge number of acrobatic elements.
It never bores
Circa's Peepshow was created two years ago in about a month. Even so, the performance is always changing. Every individual performance demands small adjustments. Ela seems excited about this: 'We're coming up to three hundred shows of this particular show. We're all just so close, so we keep the energy together and excite each other in different ways every day. And we make sure we're never stale. You know, you just need to keep the group morale up. The show's still super fun after this many shows.'
The circus company has many rehearsals; everyone has their own approach to this. This is mainly because there are multiple training regimes that depend on the specialisation of the individual members of the group. For example, floor routines and aerial acrobatics require a different training regime than the trapeze. Among other things, Ela performs an act involving a rope and it is therefore very important that she stays as agile as possible. 'I do rope and contortions, so a lot of my training regime is strength and flexibility,' she explains, 'But I also have to keep up my cardio, because otherwise I will just be unfit to do the show in general.'
Every performance is unique to us
Three hundred shows… You would expect that there must be a point where every performance starts to blur into one. To Ela, this isn't the case: every act is different from the first time you performed it. Even more, she always tries to imagine how her audience will experience the show. 'These particular people have never seen it before. And even though it's similar for me, it's completely new for everyone else that you're performing it for. So you if have that in the back of your head, you just give as much as you can to that particular audience.'
Circa often travels to different theatres, which Ela finds to improve the overall theatre experience. Last year, the company spent six months in Berlin, where they performed Circa's Peepshow on the same stage for the entire duration of their stay. Ela beams: 'We're constantly on tour with this show now. It's really awesome to get to go to new theatres every time, because we get to find new entrances and new bits that didn't work in the old one, and now they work all of a sudden.'
The audience's perception changes
Ela sees many new opportunities in the Grand Theatre, the current location of Circa's show. 'The Grand Theatre is an amazing theatre to be in, because it can be immersive and it lights up the room. And having the audience looking up, rather than looking down… Everything changes. You just find new opportunities. Being in Groningen, in the Grand Theatre, is completely different from any other version we've done in Peepshow before.'
This is the first time that Circa is able to perform the final part of the show in the audience, which Ela loves. She feels that it really improves the ambiance of Circa's Peepshow. 'You get to be amongst the audience. This really make that nightclub feel so much stronger, because you're with them and you can feel them with you.'
Being able to perform in the audience is a unique experience for Ela. 'The second half is now immersive. We never had the opportunity before to be in the audience during that half, which is just a totally new experience for everyone,' she adds. With this mindset, it becomes possible to create a new experience with every performance; regardless of whether you are a spectator or an acrobat of Circa.
Camera/montage: René de Boer
Interview: Caitlin Weyhenke
Editorial: René de Boer, Charlotte Beerda and Ingrid de Vries
Photography: René de Boer
Thanks to: Annedore van Zalen, Grand Theatre
Translation: Renée Langenhuijsen