WERC & Very Theatre - The Place Where We Meet What remains of human contact when we communicate via screens?
"Ni hao!" An enthusiastic group of people greet the audience. We hesitantly answer 'Hello' back. A live broadcast connects us with the capital of Taiwan. Taipei is about a twelve hour flight away from the Netherlands, and there is about a six hour time difference. Despite being so far away in both distance and time, Groningen and Taipei meet each other – right here, right now. At the time, this contact seemed obvious to us, but a lot has preceded this moment.
Among other things, artists' collective WERC is responsible for the annual campaign and light installations (such as Lily, the lights in the pond) of Noorderzon. For this year's Noorderzomerprogramma, WERC is collaborating with Very Theatre in Taipei to create the show The Place Where We Meet. A show that is performed inside an art installation, about crossing the boundaries between the physical and the digital worlds. WERC's Joachim Rümke notes that this production came about in a special way. I talk to him after the show.
The Place Where We Meet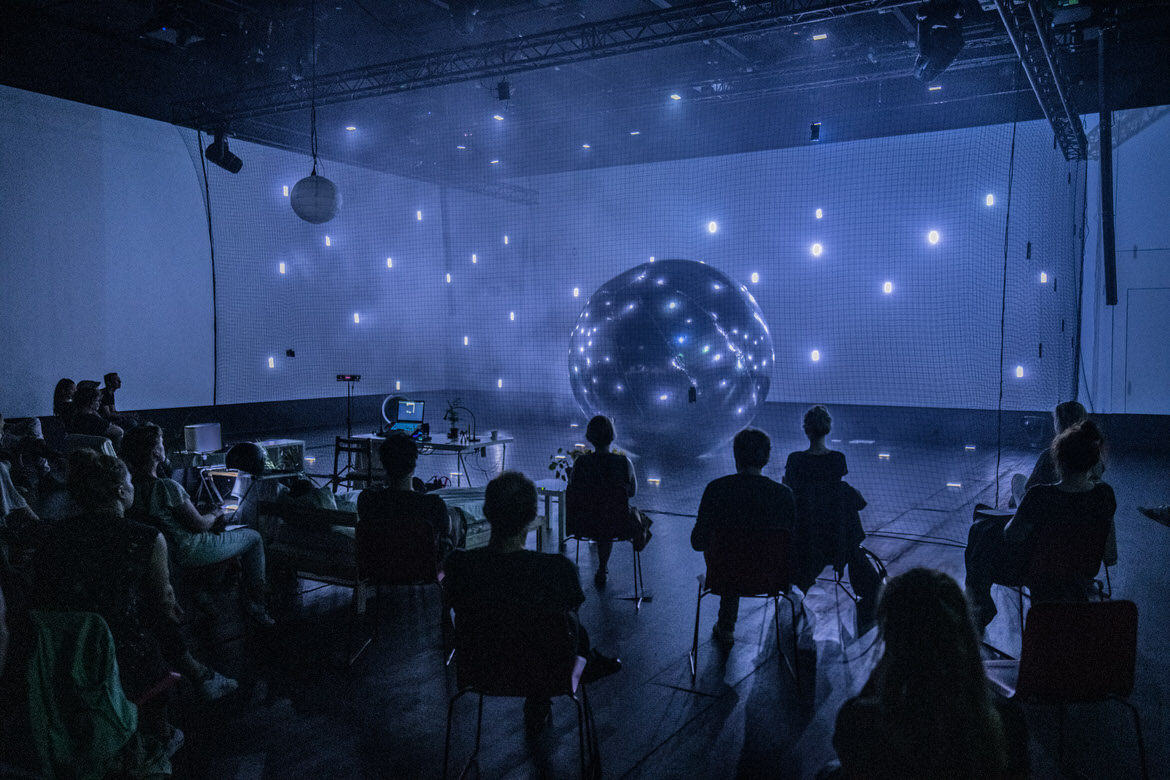 There's a lot to discover in the theatre. The first thing the audience see when they enter the room are the large images of Taiwan projected on the wall. At the back of the stage, large nets are stretched with all sorts of lamps. The whole thing is reminiscent of an arena – and within it, an enormous shiny silver ball is carefully set into motion.
The visual stimuli almost make you forget that the scene takes place in an ordinary living room: a modest arrangement, positioned near the first row. With all sorts of props, like quaint little tables, a bed, wardrobe, plants, chair, drying rack, reading lights and a tiny globe. The whole scene breathes IKEA. Yet it causes a chain reaction in its very simplicity. It is here that performer Mohamed Yusuf Boss answers the incoming call from Yen-Fan Yu.
Taipei and Groningen: two living rooms with surprising similarities…
Both rooms look about the same. The Dutch and Taiwanese living rooms seem like mirror images, like two parallel worlds. Even the silver ball on the Groningen stage finds its existence mirrored in the Taipei setting.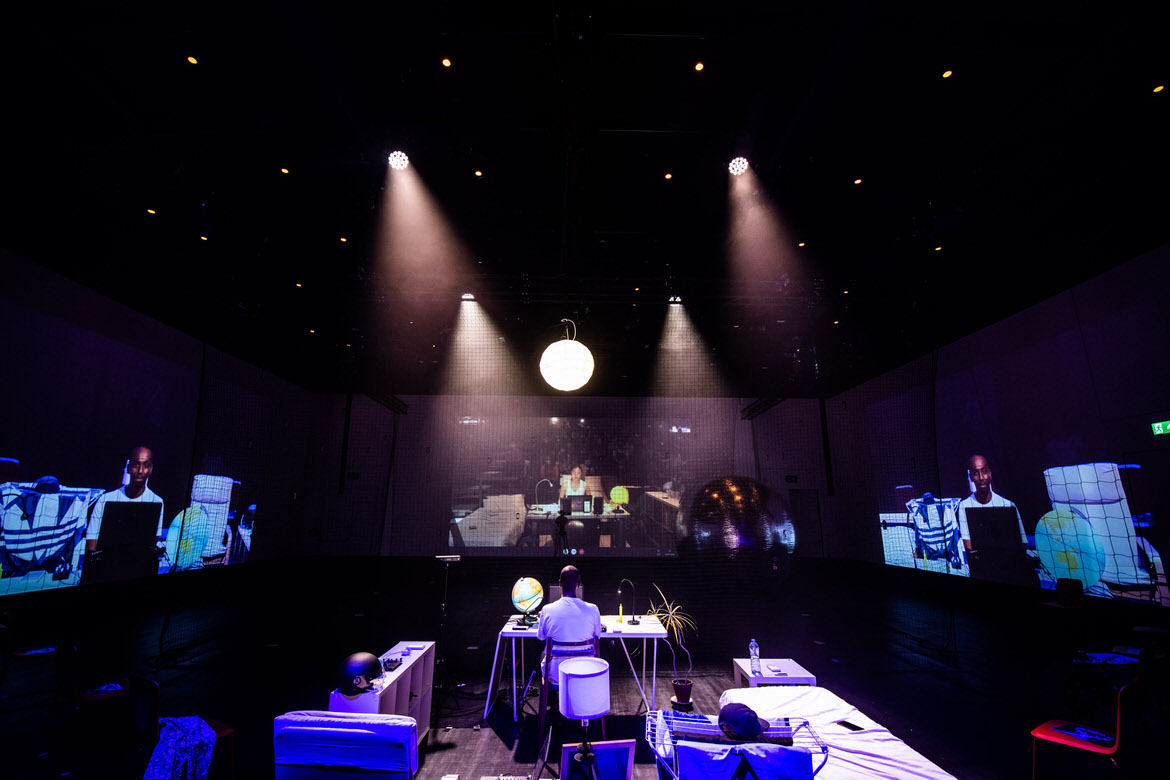 Large screens give us the opportunity to communicate with the Taiwanese audience, who in turn are watching their own live performance. Would we be up for waving to each other with the torch function on our phones? Laughter from both ends.
Taipei raises some inevitable COVID-19 issues. Why are those Groningers sat so far apart from each other? And why aren't they wearing face masks like the Taiwanese? Taiwan has sent them out by the bucketload, so what's happened to them? Nervous laughter is our answer.
After about ten minutes, the connection is broken and we're back in our own world.
Even if both cities started on this journey together, Taipei and Groningen soon separate to feature into their own stories. As a result, the carefully constructed connection between the two seems to have come to a sudden end. In the remaining minutes, I half expect there to be some form of renewed contact between Europe and Asia, but it doesn't happen.
On the one hand, I am disappointed that the contact between us has ended. On the other hand, it feels somewhat familiar. 'Real life' is full of similar situations where you lose contact with your people as you continue onto separate routes. Digital communication can offer a solution precisely because it is easy to make a connection. Despite this, contacts disappear as quickly as they entered your life.
My attention is once again drawn to the ball on stage. It was kept in motion until it had fulfilled its purpose. As its slowly deflates, Juersson Hermanus enters the arena. An interplay takes place between Juersson and Mohamed, who has since started operating the cameras in the living room while recording himself. A play of dance, digital techniques, installation art, and human touch as important aspects.
A complex combination of dance and digital techniques…
Juersson always takes the centerstage. He moves between projections and lights. Mohamed seems to follow him in his movements. His face, which appears projected onto the walls, also seems to respond to Juersson's movements. Or is it Juersson who responds to the projection? Who is in control?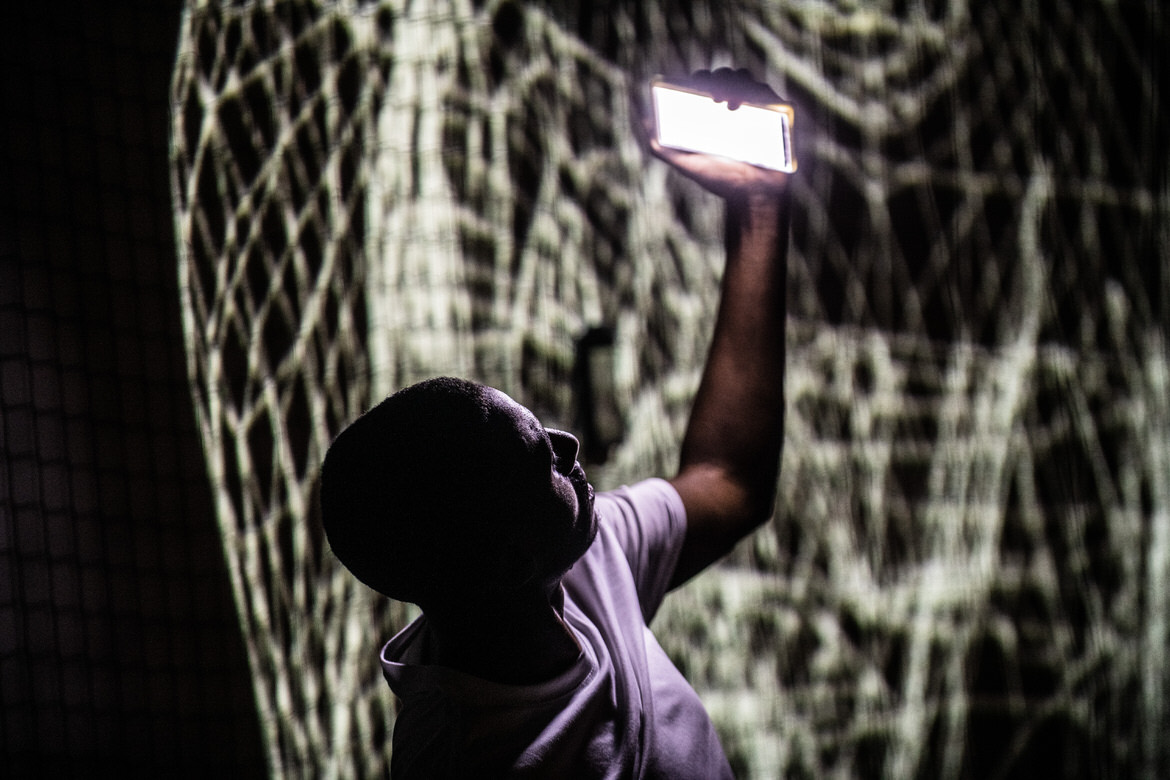 The performance is an appeal mainly to the visual senses, which results in an intriguing show. However, it also raises questions. For example: what's the idea behind the show? Joachim Rümke is available to tell me more about it.
Joachim is one of the three creators of WERC. He mainly operates on the narrative side of things, and in so doing is able to share his theatre experience. He also creates animations. WERC enjoys experimenting with new media and new techniques. In addition to this, all three are fascinated by the connection between the digital and physical worlds. Their aim is to explore this connection in their projects.
The story behind this show
In 2016, WERC and Very Theatre started collaborating closely together, with both companies meeting up in Groningen and Taipei. Joachim himself has also visited Taiwan. He talks about his meetings: "We were both considering different things. About long distance communication, what a digital party would look like, and what the world would look like if flights were no longer a thing. It was impossible to image anything like that back then. Yet these thoughts have now become current affairs."
WERC and Very Theatre had planned to performed together at Noorderzon this summer, but COVID-19 presented unexpected challenges. Noorderzon could no longer continue in its current form and it suddenly became impossible to meet with Very Theatre in person.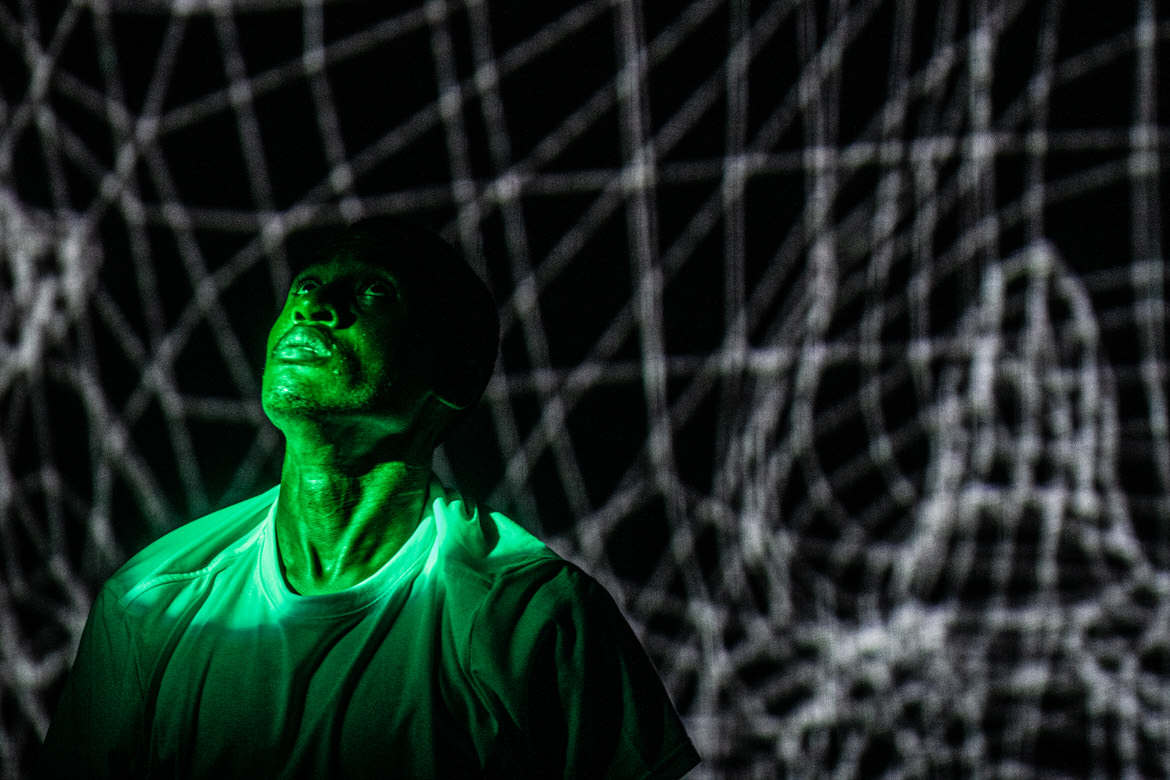 How do you continue to work together when face-to-face contact has become impossible?
This new situation forced WERC and Very Theatre to change the way they communicate and work together. Joachim: We were determined to finish our production, so we were dependent on modern technology." In the end, digital contact became the focal point of the dance show. Although the audience in Taipei will experience a different choreography – performed by dancer Yen-Fan Yu – both shows are performed simultaneously.
Joachim: "We also wanted our audiences – in Groningen and Taipei – to be able to see each other and connect in each other's presence. That's why we call each other during the show."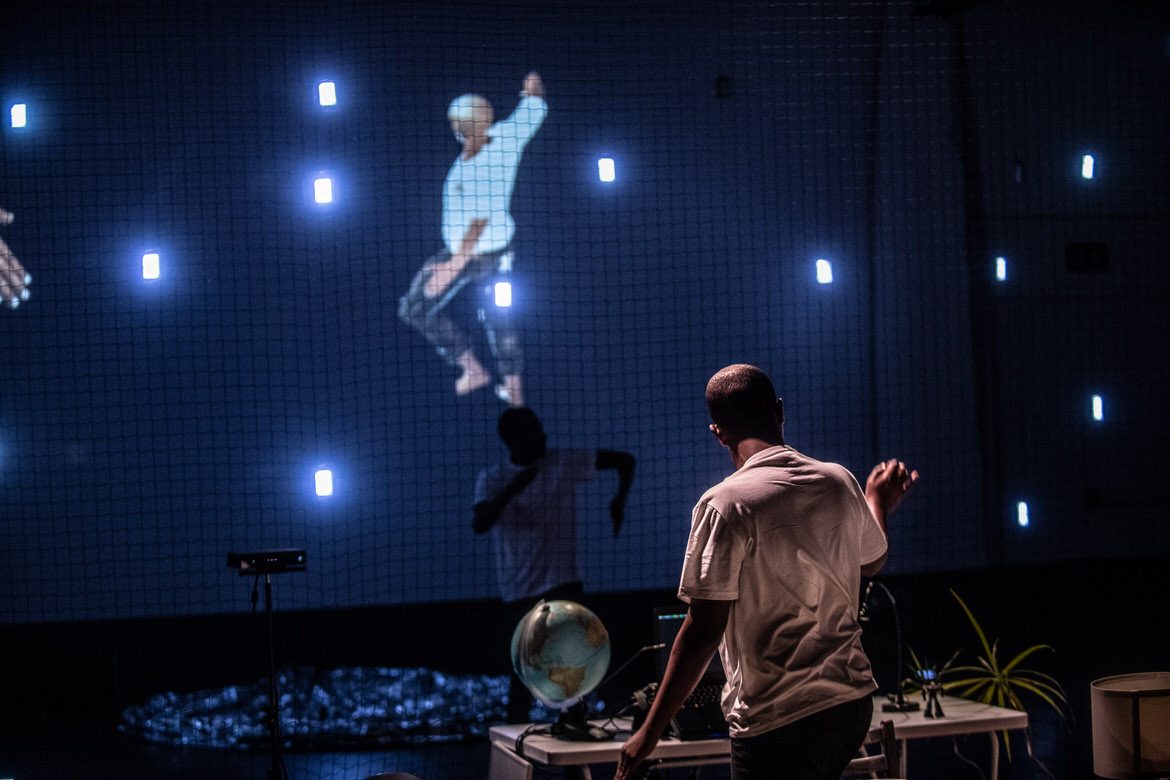 A starting point of this production is that online communication via (anonymous) screens has become increasingly prevalent in our modern lives. This is unlikely to change any time soon, as we live in a time when the government advises us to work from home as much as possible, a time when socializing cannot be taken for granted. Can digital contact ever truly replace face-to-face contact? Joachim feels that, in any case, there is a change going on.
"Before, many people did not consider a meeting online to be a 'real' meeting because both people were not present in the same room. That face-to-face experience made the experience. That image is slowly shifting. Now, everyone is video chatting," he says. "It has become possible to imitate the 'real thing' online. For example, touching an object at the same time makes the encounter more intimate."
Digital contact allows you to look into someone's living room. And into each other's lives.
Speaking of intimate… During the show we were able to look into a living room in Taipei. And Taipei was able to look into ours. Without a digital connection, this would've been impossible. "This way you're able to look into each other's lives," concludes Joachim. "The question then becomes: what information do I transmit? How does the other person receive this information? What remains of my being when I communicate digitally? Because you keep adapting and changing yourself all the time. That is the essence, I believe."
Which aspects of human touch can be transferred digitally and which cannot? Is there such a thing as a boundary that separates the physical from the digital world? The Place Where We Meet does not offer ready-made answers, but mainly invites its audience to immerse themselves in these questions and explore them further. Aimed at people who live in Groningen, Taipei, or somewhere else in the world.
Translation: Renée Langenhuijsen
---
Credits
The Place Where We Meet is produced by Very Theatre & WERC Collective
Co-production: Grand Theatre Groningen
New media / concept: WERC Collective. Jelle Valk, Olav Huizer & Joachim Rümke
Performers: Mohamed Yusuf Boss & Juersson Hermanus
Dramaturgy: Judith Blankenberg
Creative Producer: Jaukje van Wonderen
Intern WERC: Vincent Westra
Photography: © Knelis. The Place Where We Meet - 'Noorderzomerprogramma 2020'.